Let us inspire you with our regularly updated guide to new food and drink happenings around town. Click here if you want to jump straight to the drinks section (no judgement).
What's New: Food
The team behind Taste Hong Kong has joined culinary forces with some of the world's best chefs, restaurants and mixologists for Taste Tuesdays. Taking place on the second Tuesday of each month, talented names in food and drink from Hong Kong, London, Paris and Sydney will offer exclusive meals, chef collaborations and tasting menus. Leading the launch in Hong Kong is Chef Agustin Balbi of HAKU with an innovative spread on Tuesday 10 July from HAKU's Japanese tasting menu. Featuring Chef Balbi's personal take on Japan's rich and diverse flavours across six courses, lucky diners (space is limited) can indulge in Nagahama Catch of the Day with kumamoto melon, uni with brioche and hanaho, grilled octopus with leek and konbu, lamb with humita and nasturtium, followed by a refreshing peach and yogurt granita dessert, sake and specially curated cocktails.
Price point:  $942 per person (includes two cocktails)
Shop OT G04B, Ground Floor, Ocean Terminal, Habour City, Tsim Sha Tsui
Roots Eatery is a Hong Kong-based catering company run by banker-turned-chef Stephanie Wong. Head to PMQ Taste Kitchen until July 22nd to experience her "Voyage from the Mediterranean" pop-up dining series. Although her background is in French cuisine, Stephanie's menu inspiration comes from her latest travels to Italy, Turkey, and Israel.
Price point:  $$ – $$$
H113-H114, 1/F, Hollywood, PMQ, 35 Aberdeen Street, Central
Scarlett, located in Tsim Sha Tsui, is a French-style bistro and a must visit in TST. Tucked away down Austin Avenue, Scarlett offers a cozy space for intimate dinner or drinks at the trendy bar with glasses of directly imported French wines from only $55. The food at Scarlett is being taken to the next level by the addition of their new head chef Danny Grimshaw this June!  Danny, an Australian native brings with him over 20 years' experience working the stoves of some of Melbourne's top restaurants and he will be bringing a fresh eye and contemporary touch to the menu.
Price Point:  $$
2 Austin Avenue, Tsim Sha Tsui
With the opening of Tai Kwun Centre for Heritage and Arts comes a handful of new and exciting restaurants, one of which is Old Bailey. Opened by JIA Group, Old Bailey serves up authentic Jiangnan cuisine by Head Chef Wong Gwan Man. The concept behind Jiangnan cuisine is to enjoy a casual and leisurely meal inside one's home as opposed to going out. A few other collaborations for this concept include the well-known names of Adonian Chan (Trilingua), Mina Park (Sook), and Nana Chan (teakha). The menu consists of both the familiar (dim sum, crispy duck, mud crab, etc.) and the potentially unfamiliar (Dragon's Whisker Fish, yan du xian soup, eight treasure rice, etc.).
Price point: $$$ – $$$$
2/F, JC Contemporary, Tai Kwun, Old Bailey Street, Central
Tucked away on eclectic Tung Street in Sheung Wan, Blue Supreme serves up an impressive range of 'live beers' (the beers are bottled with live yeast and cultures after its primary fermentation) and modern American dishes by Chef Leonard Cheung. Although Blue Supreme has been open for a little while now, they have just launched their weekend brunch menu. Expect crowd favorites, like shakshuka (possible the best we've had in Hong Kong!) and the Elvis Presley French Toast (with peanut butter, bacon, and berries).
Price point: $$ – $$$
G/F, 21 Tung St., Sheung Wan
Another new opening in Tai Kwun is Madame Fu. The 8,000 sq ft space is used as a restaurant, lounge, bar, and private dining area (we are obsessed with their 'pink room'), found on the top floor of the former Barracks Block. The interior is an interesting mix of former colonial Hong Kong and Parisian cafes (reflected in the name). The cuisine, if you haven't guessed, is Cantonese with a bit of Western flare thrown in. Think dim sum and classic Cantonese dishes, though in contrast, they also serve afternoon tea and Western desserts.
Price point: $$ – $$$
3/F, Block Three, Tai Kwun, No. 10 Hollywood Road, Central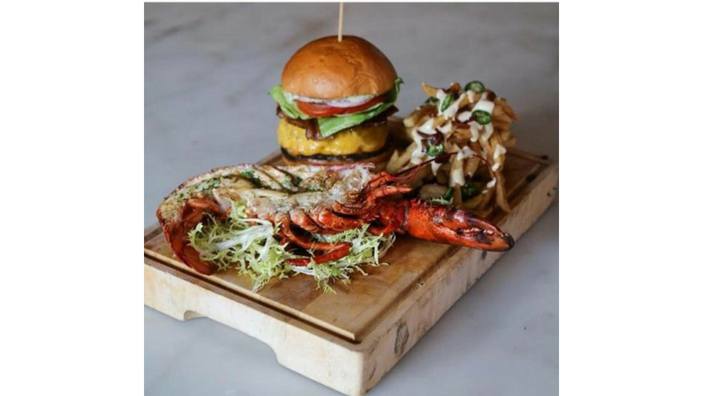 Can't choose between seafood or meat for your main? Lily & Bloom has you covered. Their Bloomin' Tuesdays (Burger & Lobster night) makes the decision easy: for HK$380 you get an Old Fashioned Bloom Burger with dry-aged wagyu, truffle aioli, bacon, and aged cheddar along with 1/2kg Boston lobster, cheese and bacon hand-cut fries, and a pint of peroni. That's your Tuesday night sorted.
5 – 6/F, LKF Tower, 33 Wyndham Street, Central
Well-known Hong Kong-based food critic Chua Lam is opening his own pho shop in Central. After searching high and low for the best pho recipe, Chua Lam thinks he has it nailed down and is ready to serve you a bowl you won't "pho-get". The menu consists of, well, pho – from the Chef's Special Beef Pho (HK$128) to regular pho with your choice of ingredients (HK$68) – and a small selection of Vietnamese appetisers, like Grilled Lemongrass Pork Neck. Chua Lam's Pho is meant to open to the public at the beginning of July.
Price point: $
15-25 Wellington Street, Central
Impossible Foods Launch @ Hotel ICON, Jinjuu & Dining Concepts Restaurants
There seems to be no slowing down for Impossible Foods – they began showcasing their vegetarian "meat" at Beef & Liberty and Little Bao, and have now collaborated with Hotel ICON, Jinjuu, and a handful of Dining Concepts restaurants to make Impossible Foods accessible to Hong Kong. Have your pick from big and small burgers, spicy tacos, Korean dumplings, Thai lettuce wraps, and much more.
Various locations throughout Hong Kong
We love EAT.it's casual Italian fare and laid back vibe, so we were excited to hear that they just launched a new brunch menu. From 11:30 am until 3:30 pm every Saturday and Sunday, head to EAT.it to get your hands on a variety of savoury Italian dishes like the Brunch Calzone with fennel sausage, poached & scrambled eggs, cooked ham, mozzarella, and cherry tomato (HK$120). Their brunch is also family and dog friendly, with plenty of alfresco dining space to keep the kids and furry friends occupied.
Price point: $ – $$
Shop J, 9 Kingston Street, Fashion Walk, Causeway Bay
Chef Vicky Cheng is joining forces with Chef Lanshu Chen of Le Moût in Taiwan who was named Asia's Best Female Chef in 2014 for her menu of sophisticated French dishes with subtle Taiwanese influences. On July 9 – 10, they will be collaborating to create an 8-course menu that features dishes from both restaurants – Chef Vicky's Chinese X French creations with Chef Lanshu's modern French X Taiwanese. What makes this evening even more interesting is that Le Moût is set to permanently close in December and this will be her final overseas collaboration.
Price point: HK$2,480 for the 8-course menu
29 – 30/F, The Wellington, 198 Wellington Street, Central
Starbucks Flagship Store Opens in Lee Garden Three
Starbucks has always been great for a grab-n-go coffee or muffin, but now they've seriously upped the game by opening a 5,000 sq ft flagship store in Causeway Bay. This store is unlike any other Starbucks in Hong Kong – it's fitted with a Teavana and Mixology Bar (hello, espresso martinis and coffee-infused craft beer!), a wide range of exclusive drinks only available at this location, and a selection of breakfast/lunch dishes (we loved the caramelized banana pancakes with ice cream and maple syrup).
Price point: $
Shop 101-110, 1/F, Lee Garden Three, 1 Sunning Road, Causeway Bay
---
What's New: Drinks
Popular Wan Chai watering hole, Stone Nullah Tavern is re-launching their infamous "Beat the Clock" happy hour for a limited time. The revamp, known as the "Back-to-School" edition brings back the amazing bar deal that has all standard drinks starting at just $1 at 5pm every Monday through Friday, with the price doubling every 20 minutes until 7pm. Guests can knock back their choice of house wine, spirit or beer for the full two hours each weekday, or show up 20 minutes before happy hour ends and still enjoy beverages for only $32.
Price Point: $

69 Stone Nullah Lane, Wan Chai, 3182 0128
This city loves a speakeasy, but how about a speakeasy within a speakeasy? Foxglove is hiding something else behind its sleek, dark interior, namely, Frank's Library, and the cocktail den has created some new drinks for the summer. The eclectic new drinks menu by bar manager Derek Tsui fuses fresh ingredients and premium spirits, and features potent barrel-aged cocktails. Six fresh concoctions are on offer, including the "Savoy Truffle", oolong house-infused gin and honey water topped with cream cheese foam. The "Mad Tea-Party" has definitely caught our eye for its combination of Johnnie Walker Black Label, fresh apple juice, cold brew Earl Grey tea, caramel syrup, and garnishes of caramelized apple and block ice. Splurge a bit and go for the barrel-aged "Vieux Carre", a heady mix of Hennessy VSOP, Bulleit rye whiskey, Antica Formula vermouth, Cocchi Barolo Chinato, Angostura bitters and Peychaud's bitters, garnished simply with a lemon twist…sounds like it's worth the $170 price tag.
Price Point:  from $100 per cocktail
18 Ice House Street / 6 Duddell Street, Central 
---
thisgirlabroad is a Canadian expat who packed her life up in the Great White North to move to a city filled with skyscrapers, dim sum, and 7-Eleven's. She's been living, working, and eating her way through Hong Kong for the past six years with no plans to slow down. Between working full time and managing her blog, you'll likely find her with a flat white in one hand and a jar of peanut butter in the other.
---