Mission-style Burritos at Little Burro
There are days when nothing can quite hit the spot like a good burrito.  Being a Westcoast girl, I naturally hold the sort of "Americanised" burrito, popular along the Californian coast, dear to my heart.  This hefty beauty, with its unbeatable combo of fresh flour tortilla, flavourful rice, zesty tear-inducing salsa and tender meat, makes for one satisfying yet gluttonous meal.  During our road trip last summer down iconic Route 101 along the Californian coastline, I crammed in as much Westcoast Mexican cuisine as possible, since I knew I wasn't going to find anything near this calibre once I'm back in Hong Kong.
Powered by the hope that I would finally tap the golden source for Americanised Mexican cuisine in Hong Kong, my search for the perfect burrito led to a visit to the newish Little Burro.  Little Burro, a quick-serve restaurant tucked into a quiet lane in bustling Causeway Bay, promises bespoke Mission-style burritos to satisfy the heartiest of appetites.  The "Mission-style" burrito came into popularity in the 1960s, and was, predictably enough, conceived in the Mission District of San Francisco.  At the time, the Mission district was a hard-working neighbourhood, where folks needed a honest, satisfying meal to carry them through the work day.  The huge size of the Mission-style burrito is its distinguishing factor, and traditionally, these mega tortillas are tightly wrapped in tinfoil to make them a handy on-the-go meal, and to preserve the heat within.
Little Burro, under the helm of Roger de Leon and Magnolia's chef Lori Granito, strives to bring this Bay Area classic to Hong Kong tastebuds.  The meats are roasted daily in Magnolia's kitchen, and delivered to Little Burro each morning.  I am a huge fan of Magnolia's finger-lickin', fall-of-the-bone ribs, so I was excited to taste what Little Burro has in store.
First off, the decor.  Little Burro gives of a "grunge chic"  vibe, with cool wall murals and tags on the back wall of their little outdoor patio.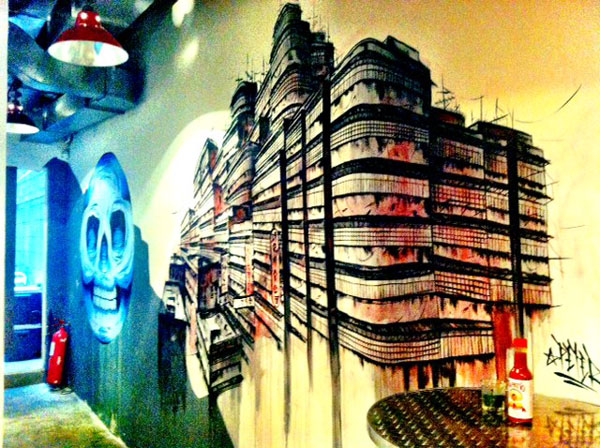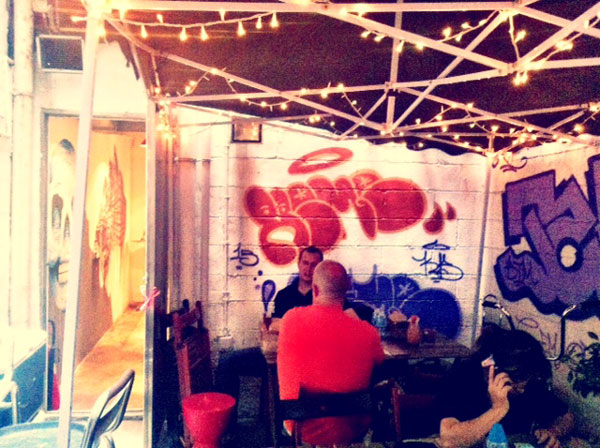 The menu is straight-forward and divided into 2 main sections, so you can build your own meal.  The "choose your dish" section has 4 options:  burrito, bowl, salad or taco.  Then the "choose your filling" section allows guests a choice of pork carnitas ($58), barbacoa beef ($68), chipotle chicken ($58), vegetarian ($58) or Asian beef ($68).  Finally, you can cap off your meal with a choice of toppings ranging from pico de gallo, corn green chill and salsa verde.
We chose the outdoor seating, since it was a relatively cool Hong Kong afternoon.  I love having hot sauces table-side so I can add that extra sparkle to my feast.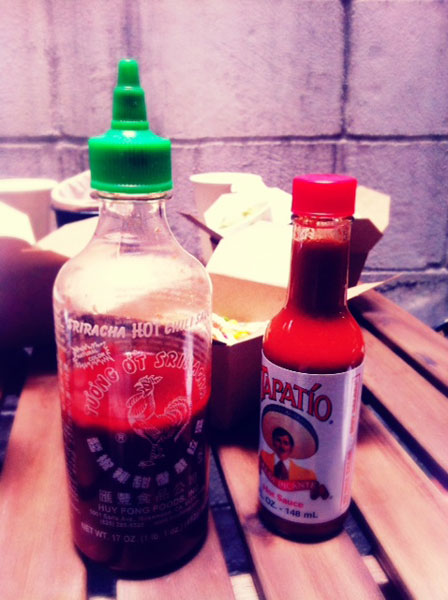 We started off with a serving of house-made tortilla chips, guacamole, and pico de gallo.  The chips were crispy, fresh, and perfectly salted.  My favourites were the red chips, which packed a spicy punch.  However, the guacamole was lacklustre at best, and I found the gloopy mixture unappetising and stale.  I have yet to find a decent guacamole in Hong Kong, so have resorted to my own recipe (click here) to get my fix.  The pico de gallo was fair, but nothing mind-blowing.  I think the dips would have tasted better if they were freshly-made.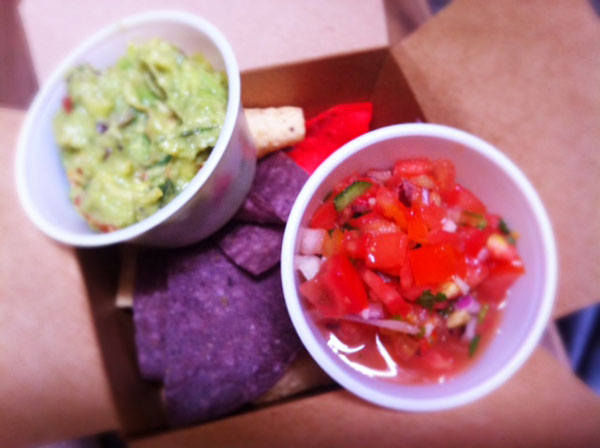 Our table of goodies.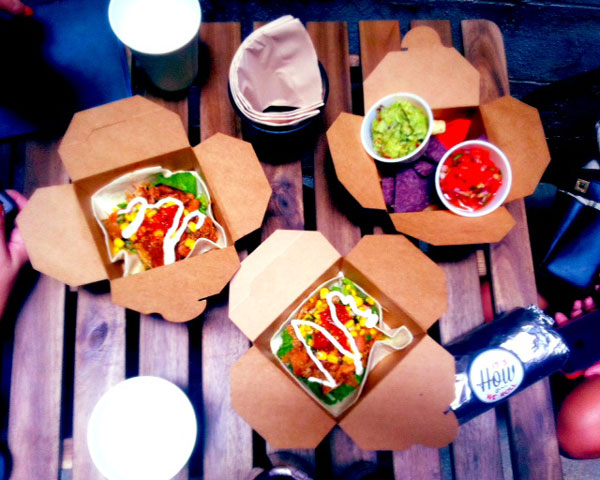 The taco meal, stuffed with pork carnitas, salsa, sour cream, cheese, lettuce, and topped with corn green chilli, came in the form of 2 soft flour tortillas.  Each taco came in its own little container, making this meal perfect for sharing.  I really liked the corn green chilli (I'm a sucker for corn) but found the pork lacking in flavour and on the dry side.  I was expecting a more "pulled" pork texture, but instead, the pork was cut into cubes.  Little Burro marketed the pork as their "kick-ass pork carnitas" but I failed to find the "kick-ass" factor.  I wish the meat was more tender, and had more spices and flavours.  I did, however, enjoy the hearty, smokey black beans.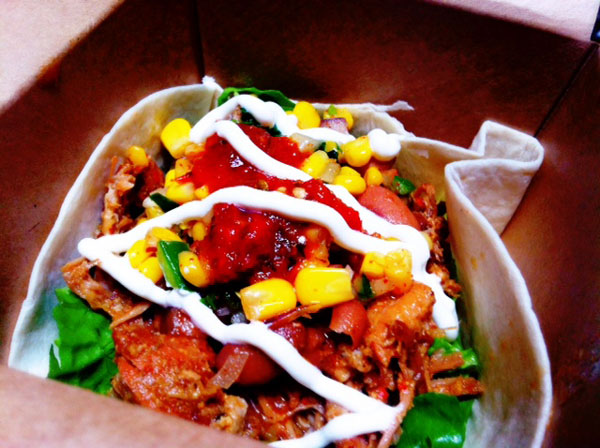 Next up, we dug into the massive Mission-style burrito, packed with barbacoa beef ($68).  The beef was a lot more tender compared to the pork. We had to split the burrito in half since it was way too massive to devour after our tacos. Aside from the beef, the burrito came filled with cilantro rice, black beans, salsa, cheese, lettuce and sour cream. There is potential here, but they need to kick it up a touch in terms of flavours.  Nothing stood out for me in this burrito, it was all very blasé.  I wish the rice was zestier, the salsa punchier, and the sour cream and cheese more pronounced to make this a creamier bundle. This is Americanised Mexican food, so this should be about big, bold flavours.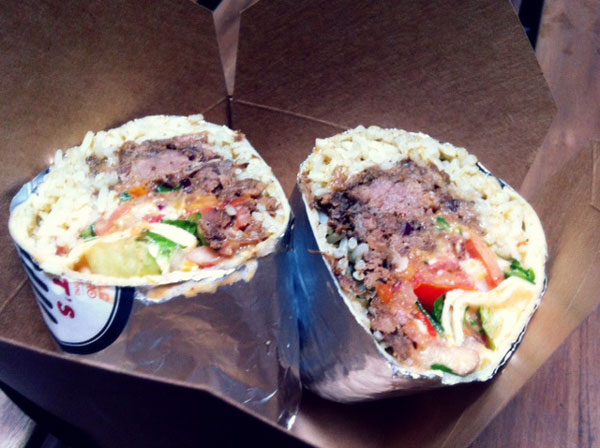 Verdict
Is this the burrito of my dreams?  Not by a long shot.  However, having said this, I do see potential in Little Burro.  I think with a few tweaks, its burrito could become a great product.  It's portable, fast and hits all the key food groups in one meal – a perfect quick chow solution for Hong Kong's busy workforce.  And for around $68 bucks, it's a relatively reasonably priced meal.  I wouldn't, however, come here on a date, unless you want to have a conversation while having sauce and food drip down your chin!
Little Burro
125 Leighton Road
Causeway Bay, Hong Kong
Tel: +852 6112 0704