Shanghai Street Hong Kong – A Cook's Paradise
(This post was originally published in September 2013 and updated in February 2017)
One of the wonderful things about shopping in Hong Kong is the small pockets of streets that are all dedicated to one type of product or room of the house.  It certainly makes life easier in this otherwise crazy city to know where to go if you need new lights, kitchenware, curtains or fancy dress outfits.
We took a stroll around Shanghai Street in Kowloon which is famous for being the place to shop if you are looking for anything for the kitchen.  Pots, pans, utensils, knives, chopping boards, rolling pins and baking supplies, Shanghai Street is a cook's delight with almost every item imaginable. Even if you don't really need anything, you won't leave a shopping trip empty handed and browsing is almost as fun as buying!  Here is our low-down on how to get there and where to shop.
Directions
If you are heading to Shanghai Street by public transport, the closest MTR station is Yau Ma Tei which is on the Kwung Tong and Tseun Wan lines.
When you arrive at Yau Ma Tei, leave the MTR by exit B2 and then turn right and right again onto Shanghai Street. You will walk past a red brick building which looks rather incongruous surrounded by shops and mid-rise apartment blocks, but it's actually a heritage site and the engineer's office of a former pumping station.  It's preserved along with the Yau Ma Tei Theatre and both are worth taking a brief look at. Parallel to Shanghai Street is Reclamation Street where there is a large wholesale fruit market at the junction of Waterloo Road.  This series of ramshackle old buildings with bustling fruit sellers is interesting to explore.
This area is where many professional chefs/restaurateurs buy their industrial kitchen appliances and utensils, but there is plenty on offer for the household cook. Don't expect to find super stylish mixing bowls or pretty coloured spatulas, here it's all about functionality and price.
The HK HUB's Top Shanghai Street Picks
1.  For anything wooden – utensils, sushi roll holders, wooden moulds and chopping boards The Woodwork Professor has beautiful handcrafted items which are a fraction of the price you would find in somewhere like Muji.
Address: 333-339 Shanghai Street, Yau Ma Tei,  Kowloon
2.  If you enjoy whipping up tasty desserts, then I Love Cake has an excellent range of tins, moulds, edible paints, pretty packaging, decorations and more. Slightly off the beaten track is Twins Co, this is where in-the-know bakers head to save a fortune on ingredients, equipment and accessories.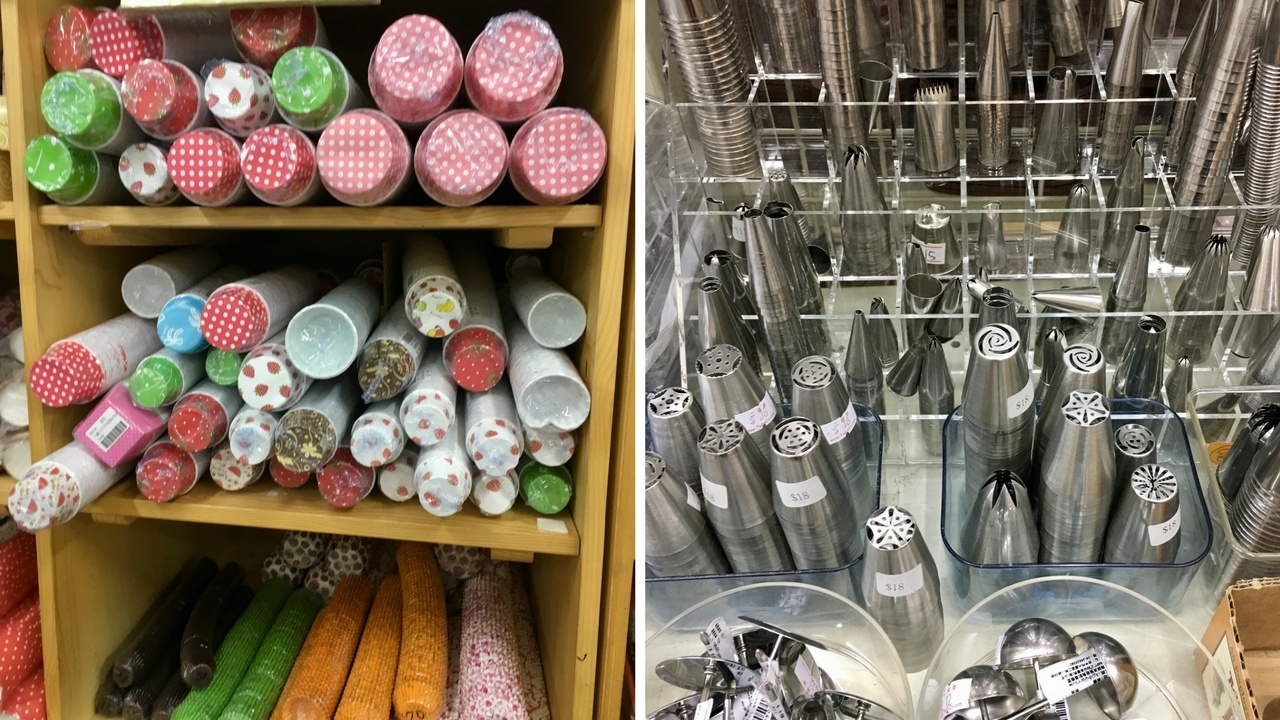 Address: I Love Cake, 338, Shanghai Street, Yau Ma Tei, Kowloon (you can also find I Love Cake on Nathan Road and in Wan Chai)
Twins Co, 1/F, On Ye Commercial Building, 395-397 Shanghai Street, Yau Ma Tei, Kowloon (you can also find Twins Co branches in Wan Chai and Tseun Wan)
3.  For general utensils, metal mixing bowls and cutlery try Kwon Wing Food Industry Stainless Steel Engineering.  This is one of the larger shops on Shanghai Street and has a wide selection of kitchen utensils and knives.
Address: 312-314 Shanghai Street, Yau Ma Tei, Kowloon
4.  Man Kee Chopping Board.  In addition to a large range of wooden and plastic chopping boards in all shapes and sizes, this place is packed to the rafters with utensils, pots, pans, cutlery, cake moulds and more.  A treasure trove of kitchen accessories.
Address: 340-343 Shanghai Street, Yau Ma Tei, Kowloon
5. W Pro Kitchen is where serious cooks can find the latest professional standard gadgets and gizmos. You'll find all the well known and high-end brands in this store, including Kitchen Aid mixers and Vitamix blenders.
So if you are looking for something different to do and a new area to explore, then Shanghai Street is the perfect place to while away a few hours, absorb some local culture, browse for interesting items and pick up some bargains.
---